Views from Understanding Evolution

Open Access
Coevolution in the Classroom
Evolution: Education and Outreach
2010
3:203
Published: 23 January 2010
In this special issue of Evolution: Education and Outreach, many different authors argue for the importance and utility of coevolution as a topic for classroom exploration—and for good reason. Coevolved relationships are likely to impress and interest students: acacias that produce thorny homes for the ants that protect them from voracious insects (Janzen 1966), flowers that exchange nectar for the sexual assistance of a pollinator (e.g., see Nilsson 1998), and newts that have evolved to be so toxic that they can easily kill most any predator—except the resistant snakes that normally feed on them (Brodie and Brodie 1990). Coevolutionary adaptations are often extreme and sometimes weird and wonderful.
From a teacher's perspective, coevolution can be used to illustrate key aspects of natural selection that students frequently miss. Though students tend to think of the environment as an organism's physical surroundings (climate, habitat, etc.), it is important for students to recognize that an organism's environment actually includes both abiotic (nonliving) and biotic (living) components—and that both of these can trigger evolutionary change. Focusing on the biotic components of an organism's environment also highlights how rapidly environments can change. Natural selection doesn't have to wait for tectonic action or the next glacial cycle to shake things up; as organisms evolve, they mutually affect each other, providing constantly shifting opportunities for evolutionary change. This is particularly important because students (and the general public) have a tendency to view evolution as a goal-directed ladder of progress (Fig.
1
) that organisms climb as they are changed by natural selection (e.g., see Alters and Nelson
2002
; Nehm and Reilly
2007
). However, if students grasp just how much environments can change due to coevolutionary and ecological processes—even on short timescales—they are more likely to understand that natural selection acts in relation to an organism's current circumstances. What is most fit today may not be tomorrow. There is no universal scale of evolutionary progress for organisms to climb; it's all relative.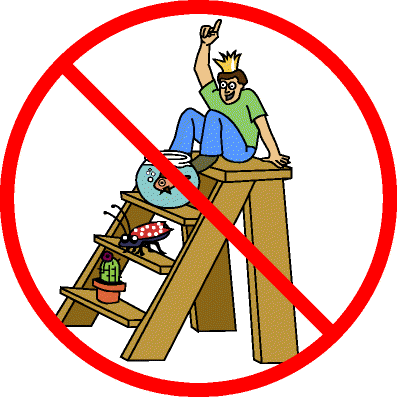 In addition, coevolution offers a perfect way to weave evolution throughout instruction in ecology. Many policymakers and educators have advocated integrating evolution throughout biology instruction so that evolution is not relegated to a discrete unit at the beginning or end of the course, but is accurately portrayed as woven throughout scientific thinking in all areas of biology (e.g., National Academy of Sciences 1998; Alles 2001). Coevolutionary processes and phenomena clearly illustrate the deep ties between evolution and ecology. Using coevolutionary examples, students can understand how ecological relationships result from evolutionary processes and how an understanding of evolution informs ecological research.
In an article in this issue, Thompson (2010) reviews many different forms of coevolution. Here, we will delve into just a few of the processes he addresses (those most likely to come up in classrooms and textbooks), provide summaries of the basic mechanisms involved, give additional examples, and of course, provide relevant teaching resources.
(1)
University of California Museum of Paleontology, 1101 Valley Life Sciences Building, Berkeley, CA 94720-4780, USA
© The Author(s) 2010
This article is published under license to BioMed Central Ltd. Open Access This article is distributed under the terms of the Creative Commons Attribution Noncommercial License which permits any noncommercial use, distribution, and reproduction in any medium, provided the original author(s) and source are credited.