Original Scientific Article

Open Access
Branching Out with Coevolutionary Trees
Evolution: Education and Outreach
2010
3:199
Published: 7 January 2010
Species interactions come in a variety of forms from loose, intermittent associations to those that are surprisingly specialized and intimate. For many species interactions, evolutionary change has clearly shaped one or both partners and in some cases has created fantastic adaptations. Some of the most impressive examples of adaptation come from highly specialized interactions. For instance, the interaction between yuccas and their pollinating moths is well known for its extreme specialization. Most species of yucca are only pollinated by a single species of moth, and the moths have extraordinary traits and behaviors to achieve pollination.
Prior to pollination, a female yucca moth lays an egg inside of the yucca flower using a structure called the ovipositor (Fig.
1
). The ovipositors of yucca moths are specially modified to allow them to inject eggs into plant tissue hypodermically, and the placement of the eggs can be very precise. After ovipositing, a female will immediately climb to the top of the flower and actively pollinate using a small amount of pollen from the pollen ball that she stores stuck on the underneath side of her head. Even though there are thousands of pollination mutualisms, active pollination has only evolved four times. In yucca moths, females accomplish pollination by using specialized mouthparts called maxillary tentacles. These structures are not found in any other lepidopteran and are only used to collect and deposit pollen. The moths actively pollinate to ensure a food source for their developing offspring. The larvae feed within the yucca fruit, consuming a portion of the seeds. In the end, the plant gains pollination at the cost of losing a few seeds, and the moth earns a well protected site to rear their offspring. This interaction has become so specialized that neither the plant nor moth could survive without its partner.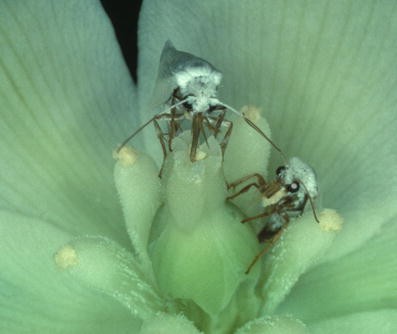 The purposeful action of the yucca moths piqued my interest in how such spectacular behaviors and specialization could evolve. The moths have clearly gained a number of traits through evolutionary adaptation due to their interaction with yuccas, including the ability and sensory equipment to find host plants, specialized structures for pollinating and laying eggs into yucca flowers, and the associated behaviors required to accomplish pollination and oviposition (Pellmyr 2003). Likewise, the plants have also undergone similar evolutionary changes such as an unusually constant floral fragrance (Svensson et al. 2005), flowers that open at night, and the loss of nectar production. Traits associated with the interaction between plant and moth may have been shaped by reciprocal evolutionary pressures caused by the interaction itself. As the moths gained the structures and behaviors allowing them to become excellent pollinators, evolution would have favored plants that saved energy by the cessation of nectar production and enhanced attraction mechanisms.
Coevolution, defined as reciprocal evolutionary change between interacting species, is thought to be one of the major evolutionary forces that generates new species (Thompson 1994). Examine any ecological community and you will find a multitude of species interactions, with a given organism interacting with several to hundreds of species over its life span. Some of these interactions will be brief and are unlikely to affect the evolution of a species, whereas other interactions may drastically alter the evolutionary pathways of the species involved. Some of these interactions have been evolving for millions of years, and the ever-improving tools for studying these long histories are helping us to unravel the large-scale patterns generated by the coevolutionary process.
(1)
Department of Biology, Syracuse University, 107 College Place, Syracuse, NY 13244, USA
© Springer Science+Business Media, LLC 2009