Curriculum and education

Open Access
Origami Bird Simulator: A Teaching Resource Linking Natural Selection and Speciation
Evolution: Education and Outreach
2015
8:14
Received: 2 March 2015
Accepted: 1 August 2015
Published: 11 August 2015
Abstract
The origami bird is a resource for teaching natural selection. A previous study incorporated the Gamete Mutation Box into the original protocol to assist in understanding the link between DNA mutation and natural selection. Having revised the protocol, we developed computer simulation software, called the Origami Bird Simulator (OBS), for teaching the connection between these two processes and speciation. In this paper, we investigate the effectiveness of the protocol modification and integrating OBS into the protocol of previous study. OBS enables students to witness the speciation process in allopatric origami bird populations through geographic isolation and following reproductive isolation. Results of tests before and after the students' experiment suggest that this new protocol enhances their understanding of the linkages between mutation, natural selection, and speciation.
Keywords
Evolution educationJapanComputer simulationReproductive isolationGenetic drift
Background
Evolution is one of the core concepts in understanding modern biology. Several researchers, however, have reported that understanding evolutionary mechanisms is difficult for secondary school and university students, for whom many misconceptions exist (Gregory 2009; Yamanoi et al. 2011). One of the main issues is that evolution is a complex subject that requires the ability to integrate knowledge of basic concepts such as DNA, natural selection, and speciation, across multiple scales of time, space, and biological organization (Speth et al. 2009). Although research studies on evolution education have attempted to mitigate these obstacles, most have focused only on natural selection (Catley 2006). Thus, techniques to assist understanding the connection between mutation and speciation are still lacking. Furthermore, the most recent version of the "course of study" for high school biology in Japan (Ministry of Education, Science, Sports and Culture 2009) requires that the process by which mutations and natural selection lead to speciation is taught.
Various teaching resources for secondary school students aimed at evolutionary mechanisms have been developed in several countries (Alters and Alters 2001; Yamanoi et al. 2012a, b). These resources include physical simulations (e.g., Welch 1993; Christensen-Dalsgaard and Kanneworff 2008; Burton and Dobson 2009) and computer simulations (e.g., Speth et al. 2009; Jones and Laughlin 2010; Royer and Schultheis 2014) that are useful in students' investigative activities. Although computer programs can simulate the speciation process in a short time, most existing material has not taken advantage of this and has instead focused solely on microevolutionary processes. Development of teaching resources that incorporate both micro- and macroevolutionary processes is highly desirable.
Origami bird is a teaching resource for natural selection with physical simulation developed by Westerling (1992). Although students are also expected to learn about the process that produces intraspecies variations by mutation through the experiment, they may not understand mutation from a molecular basis because the precise DNA alteration process is not included in the protocol. Yamanoi et al. (2012a) tried to incorporate the DNA mutation process into the original protocol and reported that the enhanced origami bird protocol does promote an understanding of the link between DNA mutation and natural selection amongst Japanese high school students.
In this study, we first modified the enhanced protocol to connect the DNA mutation and natural selection processes smoothly. Then, we developed the computer simulation software, "Origami Bird Simulator" (OBS), to incorporate the speciation process. We expect that this modification and addition should improve students' comprehension of the entire process involving these evolutionary mechanisms by presenting the link between DNA mutation and speciation. The effectiveness of this protocol was confirmed by comparing the responses of Japanese high school students on questionnaires completed before and after participating in the experiment.
Results
An increase in "strongly agree" responses in several questions was noted after the experiment (Table
2
); the number of "strongly agree" responses to question 7, in particular, showed a 30 % increase in the post-test. To confirm whether each student response changed to a more positive one after the experiment, we assumed each nominal scale to be an equal interval and scored each response as follows: strongly agree = five points, agree = four points, neutral = three points, disagree = two points, and completely disagree = one point. Note that this scoring was reversed for question 2. The scores increased significantly after the experiment for seven out of the ten questions (p < 0.05, paired t test, questions 1, 3, 6–8; Fig.
7
). No questions achieved a lower score for the post-test.
Table 2
Student responses before and after the experiment
Q.1

Q.2

Q.3

Q.4

Pre

Post

Pre

Post

Pre

Post

Pre

Post

Strongly agree

53.5

77.5

22.9

29.6

62.9

81.4

71.8

69.0

Agree

29.6

15.5

14.3

15.5

14.3

8.6

16.9

25.4

Neutral

11.3

2.8

25.7

22.5

11.4

5.7

11.3

4.2

Disagree

2.8

2.8

20.0

7.0

2.9

1.4

0.0

1.4

Completely disagree

2.8

2.8

17.1

25.4

8.6

2.9

0.0

0.0
Q.5

Q.6

Q.7

Q.8

Pre

Post

Pre

Post

Pre

Post

Pre

Post

Strongly agree

70.8

80.6

52.8

66.7

40.0

70.0

64.8

77.8

Agree

20.8

15.3

25.0

22.2

31.4

20.0

18.3

18.1

Neutral

6.9

2.8

11.1

8.3

17.1

8.6

9.9

4.2

Disagree

0.0

0.0

5.6

0.0

7.1

1.4

5.6

0.0

Completely disagree

1.4

1.4

5.6

2.8

4.3

0.0

1.4

0.0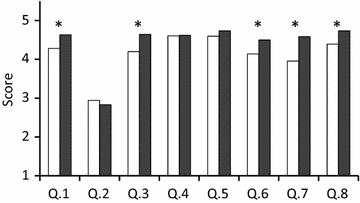 Most students (71 %) responded that their understanding of DNA, evolution, and biodiversity changed after the experiment (Fig.
8
). The free description of the improvement included comments on the effect of population size and time on the speciation process (
n
= 6), genetic drift (
n
= 5), evolutionary mechanisms (
n
= 4), the link between the mutation and speciation processes (
n
= 3), stochasticity of the simulation (
n
= 3), and noting that DNA alterations do not always cause a change in phenotype (
n
= 2), mutation is not synonymous with speciation (
n
= 2), and speciation can occur more easily than the student thought (
n
= 2). Other minor comments are listed below: "Before this experiment, I had associated mutations with white snakes and limbless animals, not with speciation. Now I realize that mutations will lead to speciation after tens of thousands of years" (High school A, female); "I understood that genetic drift has stronger effects on evolution than natural selection does" (High school C, male).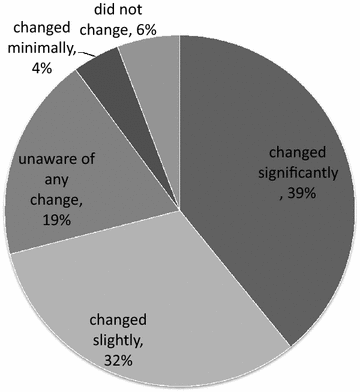 Student impressions (n > 1) given as free comments included the following: interesting (n = 20), promotes understanding about evolutionary mechanisms (n = 12), surprised that random DNA alteration causes adaptation (n = 3), want to use OBS by myself and run simulations under many other conditions (n = 3), surprised that bird morphology can affect its flight distance (n = 2), easy to understand (n = 2), and began to feel that evolution is understandable (n = 2).
Discussion
We determined the combined educational effects of the hand-throwing experiment with the new protocol and the computer simulation experiment using OBS by comparing the students' responses before and after the experiment. The improved scores for questions 6–8 and the fact that most students (71 %) responded that their understanding of DNA, evolution, and biodiversity improved after the experiment (Figs. 7, 8) indicate that the experiment enhanced students' understanding of the link between altering the DNA, natural selection, speciation, and species diversity. The scores for question 7, in particular, increased significantly after the experiment. Since content regarding the link between altering the DNA and speciation was introduced into the old protocol by this research, this significant increase is considered to be derived from the introduction of the revised protocol of the hand-throwing experiment and the computer simulation experiment using OBS.
Free format comments on the improved understanding included references to the effect of population size and time on the speciation process, genetic drift, and the stochasticity of the simulation. Since the content related to these comments was included in the computer simulation experiment with OBS, these improvements are considered to have occurred as a result of the simulation software. However, to reveal the precise educational effects of the experiment using OBS, a questionnaire survey needs to be administered between the hand-throwing and computer simulation experiments and the responses compared.
From the scores for question 2, many students seemed to confuse mutation with speciation as reported in previous studies on the origami bird (Yamanoi 2008, 2010). Some students seemed to improve their understanding through the experiment as the proportion of "completely disagree" responses increased from 17.1 to 25.4 %. However, teachers should be careful to explain the meanings of each term before they perform the experiments using our protocol. The scores for questions 4 and 5 did not increase, presumably because the score before the experiment was already high (4.61 and 4.60, respectively).
Most of these results support the hypothesis that the students' understanding improved as a result of the experiment. We expect that if students could operate the OBS themselves, they would understand the evolutionary process even more because of curiosity. However, the origami bird experiment using the OBS simulation could result in some misunderstandings: some students erroneously thought that speciation occurs in a short time, and they overestimated the power of genetic drift on the evolutionary mechanism. Teachers should be aware that the speciation process that occurs over hundreds of thousands of years is taught as an event that lasts only 90 min for descriptive purposes. Combined usage of other teaching resources focusing on the timescale of speciation (e.g., Metzger 2011) could be effective. In a future experiment, students will run the simulation with three population sizes (large: n = 100, medium: n = 30, small: n = 10). This should enable them to understand that the effect of natural selection due to genetic drift is noticeable if the population size is large, whereas it is not perceptible when the population size is small. We preliminarily performed this experiment for seven groups under each condition. The average ratio of successive mating was 26 % (large), 37 % (medium), 33 % (small), which supported our prediction. Although the average ratio of successive mating with a small population (33 %) was lower than that with a medium population size (37 %), the ratios with a small population fluctuated more, indicating that genetic drift masks the effects of natural selection. As there are only a few teaching resources for understanding the balance of natural selection and genetic drift (e.g., Russo and Voloch 2012), the OBS will be a useful addition.
Conclusion
We modified the origami bird protocol with hand throwing (Westerling 1992; Yamanoi et al. 2012a, b) and developed the OBS computer simulation software to demonstrate evolutionary mechanisms from DNA alteration to speciation. Modification of the enhanced protocol and introduction of the OBS simulations improved the students' understanding of these evolutionary processes. We intend to alter the experiment to include student execution of the OBS. If students were able to operate the simulation directly, they would gain a more intuitive understanding of evolutionary mechanisms by freely changing the parameters of the OBS out of curiosity. Our assessment method was not adequate for measuring the diversity and frequency of the key concepts included in the students' answers about evolution (Nehm and Schonfeld 2008; Speth et al. 2009). In future experiments, we intend confirming whether students apply the principles of mutation, natural selection, and speciation to explain how real organisms' populations change over time using a variety of assessment methods such as open-response instruments. The source code and executable program of OBS are available at https://github.com/heavywatal/oribir/. We expect that the OBS will be used for evolution education in secondary schools and universities in many countries around the globe.
Declarations
Authors' Contributions
TY conceived the study, performed the analyses, interpreted the results, and drafted the manuscript. WMI constructed the computer simulations, interpreted the results, and helped draft the manuscript. Both authors read and approved the final manuscript.
Acknowledgements
We thank the teachers and students for their participation in our experiment, and the graduate school students and post-doctoral fellows of SOKENDAI (Graduate University for Advanced Studies) for their cooperation in the preliminary questionnaire survey. Thanks are also due to H. Tanaka, O. Sakura, N. Mizushima, and M. Takemura for their insightful comments. This study was partially supported by a Grant-in-Aid for Scientific Research (B) #22330253 (MT) and a Grant-in-Aid for Young Scientists (B) # 25870669 (TY) from the Ministry of Education, Culture, Sports, Science and Technology of Japan.
Compliance with Ethical Guidelines
Competing Interests The authors declare that they have no competing interests
Open AccessThis article is distributed under the terms of the Creative Commons Attribution 4.0 International License (http://creativecommons.org/licenses/by/4.0/), which permits unrestricted use, distribution, and reproduction in any medium, provided you give appropriate credit to the original author(s) and the source, provide a link to the Creative Commons license, and indicate if changes were made.
Authors' Affiliations
(1)
Laboratory of Science Education, Faculty of Education, Hakuoh University, Oyama, Japan
(2)
Department of Evolutionary Studies of Biosystems, SOKENDAI (Graduate University for Advanced Studies), Hayama, Japan
Copyright
© Yamanoi and Iwasaki. 2015