Original Scientific Article

Open Access
Charting Evolution's Trajectory: Using Molluscan Eye Diversity to Understand Parallel and Convergent Evolution
Evolution: Education and Outreach
2008
1:84
Received: 23 July 2008
Accepted: 1 September 2008
Published: 25 September 2008
The Mollusca is a large animal phylum, second only to the Arthropoda in the number of described living species. An estimated 100,000 species are distributed among seven classes: Aplacophora, Polyplacophora, Monoplacophora, Scaphopoda, Gastropoda, Cephalopoda, and Bivalvia (Ruppert et al. 2004). Each class is recognized by alternations to a basic molluscan body plan. For example, the arms and tentacles of a squid are a modification of the muscular foot common in other molluscan lineages. The largest classes by far are Gastropoda (snails, slugs; 60,000 species) and Bivalvia (clams, oysters, mussels; 10,000 species). Polyplacophora (chitons) and Cephalopoda (squids, octopuses) are smaller classes, each containing nearly 1,000 species. Of the seven molluscan classes, it is these four classes that possess eyes.
Molluscan eyes are extremely varied, ranging from a simple eye cup or pit eye that is open to the environment to closed lens eyes much like those seen in fish (Fig.
1
), compound eyes that superficially resemble the eyes of flies, pinhole eyes, and eyes with mirrors. In fact, molluscs have some of the greatest morphological diversity of eye types among all animals, with seven to 11 different lineages possessing eyes (von Salvini-Plawen and Mayr
1977
). The size of molluscan eyes ranges from less than 0.02 mm (0.00078 in.) across in the diminutive small spot snail,
Punctum minutissimum
(Timothy Pearce, Carnegie Museum of Natural History, personal communication), to more than 27 cm (11 in.) across in the colossal squid (
Mesonychoteuthis hamiltoni
), about 11 times the size of a human eye (Black
2008
; Lilley
2008
).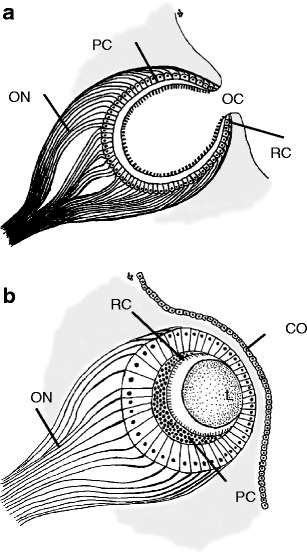 In addition to the incredible diversity of eye structures and size range, the placement of eyes varies across molluscan taxa. Two of the four classes, gastropods and cephalopods, have a well-developed head (cephalic) region, so only they can have cephalic eyes, and most of them do, whereas Bivalvia and Polyplacophora have many replicated eyes in other parts of the body, such as along the ventral edge of the mantle or within a shell. Although many molluscan species possess light-sensitive structures, such as nerve endings in their epidermis as adults, and eye spots, a composite of light-sensitive and pigment cells as larvae, that are functionally important to the organism, we do not consider these to be true eyes. Instead, we define eyes as organs that can sense both light intensity and direction with the necessary components for at least rudimentary spatial resolution or image-forming capabilities.
(1)
Department of Ecology, Evolution and Organismal Biology, Iowa State University, 253 Bessey Hall, Ames, IA 50011, USA
(2)
Department of Biological Science, California State University, Fullerton, CA 92834, USA
© Springer Science + Business Media, LLC 2008