Original Science/Evolution Review

Open Access
Understanding Evolutionary Trees
Evolution: Education and Outreach
2008
1:35
Received: 15 December 2007
Accepted: 11 January 2008
Published: 12 February 2008
Abstract
Charles Darwin sketched his first evolutionary tree in 1837, and trees have remained a central metaphor in evolutionary biology up to the present. Today, phylogenetics—the science of constructing and evaluating hypotheses about historical patterns of descent in the form of evolutionary trees—has become pervasive within and increasingly outside evolutionary biology. Fostering skills in "tree thinking" is therefore a critical component of biological education. Conversely, misconceptions about evolutionary trees can be very detrimental to one's understanding of the patterns and processes that have occurred in the history of life. This paper provides a basic introduction to evolutionary trees, including some guidelines for how and how not to read them. Ten of the most common misconceptions about evolutionary trees and their implications for understanding evolution are addressed.
Keywords
Branch
Clade
Common ancestor
Evolution
Node
Phylogeny
Sister taxa
Topology
Trend
Introduction: The Importance of Tree Thinking
In a flourish indicative of both his literary style and perceptive understanding of nature, Darwin (
1859
) offered the following arboreal metaphor to describe the diversification and extinction of species:
As buds give rise by growth to fresh buds, and these, if vigorous, branch out and overtop on all sides many a feebler branch, so by generation I believe it has been with the great Tree of Life, which fills with its dead and broken branches the crust of the earth, and covers the surface with its ever-branching and beautiful ramifications.
Darwin clearly considered this Tree of Life as an important organizing principle in understanding the concept of "descent with modification" (what we now call evolution), having used a branching diagram of relatedness early in his exploration of the question (Fig.
1
) and including a tree-like diagram as the only illustration in
On the Origin of Species
(Darwin
1859
). Indeed, the depiction of historical relationships among living groups as a pattern of branching predates Darwin; Lamarck (
1809
), for example, used a similar type of illustration (see Gould
1999
).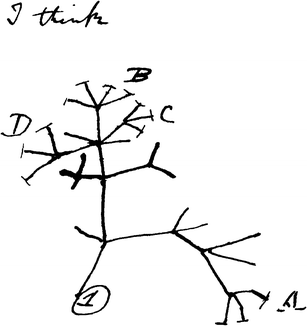 Today, evolutionary trees are the subject of detailed, rigorous analysis that seeks to reconstruct the patterns of branching that have led to the diversity of life as we know it (e.g., Cracraft and Donoghue 2004; Hodkinson and Parnell 2007; Lecointre and Le Guyader 2007; Maddison and Schultz 2007). An entire discipline known as phylogenetics (Gr. phyle, tribe + genesis, birth) has emerged, complete with professional societies, dedicated scientific journals, and a complex technical literature that can be impenetrable to many nonspecialists. The output of this profession has become prodigious: It has been suggested that phylogeneticists as a group publish an average of 15 new evolutionary trees per day (Rokas 2006). Little surprise, then, that it has been argued that evolutionary biology as a whole has undergone a shift to "tree thinking" (O'Hara 1988), akin to the earlier movement toward "population thinking" that helped to shape the Neo-Darwinian synthesis around the mid-twentieth century (Mayr and Provine 1980).
Whereas tree thinking has permeated much of professional evolutionary biology, it has yet to exert its full influence among nonscientists. As Baum et al. (
2005
) recently pointed out, "Phylogenetic trees are the most direct representation of the principle of common ancestry—the very core of evolutionary theory—and thus they must find a more prominent place in the general public's understanding of evolution." In this regard, it is not so much the technical aspects of phylogenetic analysis
1
that are of interest but a more practical understanding of what evolutionary trees represent and, at least as important, what they do not represent. As Baum et al. (
2005
) continued,
Tree thinking does not necessarily entail knowing how phylogenies are inferred by practicing systematists. Anyone who has looked into phylogenetics from outside the field of evolutionary biology knows that it is complex and rapidly changing, replete with a dense statistical literature, impassioned philosophical debates, and an abundance of highly technical computer programs. Fortunately, one can interpret trees and use them for organizing knowledge of biodiversity without knowing the details of phylogenetic inference.
Unfortunately, it is becoming clear that many readers lack a sufficient level of phylogenetic literacy to properly interpret evolutionary patterns and processes. For example, a recent study of undergraduate students who had received at least introductory instruction in evolutionary science revealed a range of common misconceptions about phylogenetic trees that represent "fundamental barriers to understanding how evolution operates" (Meir et al. 2007).2 Early correction of these misconceptions would be of obvious benefit, and it has been suggested that the importance for biology students of learning how to interpret evolutionary trees is on par with that of geography students being taught how to read maps (O'Hara 1997). Given the growing significance of phylogenetic analyses in forensic, medical, and other applications (e.g., Vogel 1997; Rambaut et al. 2001; Mace et al. 2003; Mace and Holden 2005) in addition to their pervasive influence in evolutionary studies, this claim does not appear to be overstated.
This paper aims to provide a brief introduction to evolutionary trees and some basic details on how they should and should not be read and interpreted. This is followed by a discussion of ten of the most common misconceptions about evolutionary trees, many of which are held simultaneously and any of which can severely impede one's understanding of evolution.
The Basics of Phylogenetic Literacy
What is an Evolutionary Tree?
In the most general terms, an evolutionary tree—also known as a phylogeny3—is a diagrammatic depiction of biological entities that are connected through common descent, such as species or higher-level taxonomic groupings. An overwhelming body of evidence supports the conclusion that every organism alive today and all those who have ever lived are members of a shared heritage that extends back to the origin of life some 3.8 billion years ago. One might therefore expect it to be possible, at least in principle, to reconstruct the Tree of Life, branch by branch and bough by bough, from the current diversity residing at the outermost twigs to a universally shared root. However, this proposition remains controversial—not because there is any scientific doubt about the historical relatedness of species (i.e., the fact of evolution; Gregory 2008) but because of the complex nature of evolutionary processes.
For a start, relatedness among species is a concept that depends on genetics as well as history, and there is ample evidence that even distantly diverged lineages have, at times, experienced significant gene sharing (a process known as lateral or horizontal gene transfer, in contrast to the more typical "vertical" transmission of genes from parent down to offspring). Some authors argue that this was sufficiently rampant in the earliest period of life's history, and has been common enough throughout the more recent past, to create a "Web of Life" lacking any single root, rather than a strictly bifurcating tree in which branches, once split, remain separate forever (e.g., Doolittle 2000; Doolittle and Bapteste 2007). At the very least, it must be noted that in light of processes such as lateral gene transfer and gene duplication, the history of individual genes may not follow the same historical paths as those of the species in which they reside. In many cases, "gene trees" and "species trees" may not be equivalent, a fact that complicates (but does not preclude) the reconstruction of phylogenies using molecular information (e.g., Wolf et al. 2002; Rokas 2006).
These issues aside, living organisms do have a history, and this does include universal relatedness of one sort or another, be it analogous to a simple tree, a more complex web, or something else. Moreover, there is no fundamental principle that prevents the pattern of ancestry from differing both temporally and taxonomically: it is possible (but by no means confirmed) that a straightforward tree metaphor is inappropriate for, say, ancient (or perhaps even modern) bacteria but is accurate when applied to eukaryotes. In the case of the latter, at least, there may be a "true" phylogeny that accurately depicts the historical patterns of ancestry connecting eukaryote branches to their common root, but the shape of the tree is far from resolved (Baldauf 2003). In fact, except in rare instances where the pattern of evolutionary branching is created in the laboratory and observed directly as it occurs (e.g., Hillis et al. 1992; Sanson et al. 2002), it is impossible to know with certainty that any given phylogeny is historically accurate. As a result, any reconstructed phylogenetic tree is a hypothesis about relationships and patterns of branching and thus is subject to further testing and revision with the analysis of additional data. Fully resolved and uncontroversial phylogenies are rare, and as such, the generation, testing, and updating of phylogenetic hypotheses remain an active and sometimes hotly debated area of research.
Anatomy of a Phylogeny
The old cliché contends that an undue focus on individual trees can prevent one from appreciating the grandeur of a forest. The reverse applies with regard to evolutionary trees, in that their collective importance is obvious, but many people are unfamiliar with the basic features of individual phylogenies. Whether they illustrate relationships among a few species or thousands (e.g., Bininda-Emonds et al. 2007) or of larger groupings of species (genera, families, phyla,4 etc.), all evolutionary trees provide the same basic information: a historical pattern of ancestry, divergence, and descent. They do so by depicting a series of branches that merge at points representing common ancestors, which themselves are connected through more distant ancestors.
The general anatomy of a phylogeny is summarized in Fig.
2
. This tree shows the relationships among six species (labeled A through F), all of which are alive at present. Each species represents one "terminal node" or "tip" on the tree. In this tree, the far right where these terminal nodes are located represents the present day, with evolutionary time extending deeper into the past as one moves from right to left on the phylogeny. These living species are located at the ends of "branches" that join one another in the past at "internal nodes." Each internal node is taken to represent an ancestor shared by two lineages, and each branch reflects the independent evolution of the lineages that has occurred after their divergence from a given common ancestor. Ultimately, all five species share a single common ancestor at the deepest internal node, also known as the "root" of the tree. Overall, the shape of the tree and therefore the pattern of branching that it hypothesizes are known as its "topology."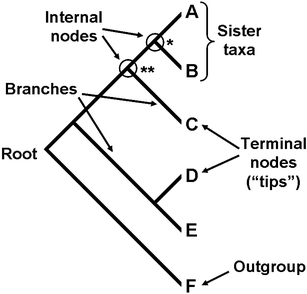 By definition, the more common ancestors that two species share to the exclusion of other species, the more closely related they are. For example, in Fig. 2, from the terminal nodes to the root, species A and B share four common ancestors, species A and D share two common ancestors, and species F shares only one ancestor (the root itself) with any of the other five species. Species A and B are linked through a recent common ancestor that is not shared by any other taxa on the tree and are therefore known as "sister taxa." The next closest relative of species A and B is species C, with whom they share an ancestor to the exclusion of species D, E, and F. Species D and E are sister taxa and are the next closest relatives of A + B + C. Species F, by contrast, is not linked to any of the other species beyond a single distant ancestor and is known as the "outgroup." An outgroup is necessary to root a tree (unrooted trees also can be drawn, but these are less informative and are not covered here).
How to Read Evolutionary Trees
Phylogenies as Family Trees
Although the technical jargon of phylogenetics may be confusing on first pass, achieving a basic understanding of evolutionary trees need not be daunting. Notably, humans in all cultures are skilled at recognizing and understanding relatedness in other contexts, and many of these abilities apply equally well to phylogenies. There are some similarities between species phylogenies and human family pedigrees, and thinking of an evolutionary tree as a "family tree" can be helpful.
5
This analogy is made explicit in Fig.
3
a, which shows some easily recognized relationships among human family members. In this case, the reader is depicted as one of four terminal nodes, each of which represents a contemporary person. The reader's closest cogenerational relative is a sibling, with whom he or she shares a common ancestor (the parent) to the exclusion of other individuals. The parent herself has a sibling, both of whom are descended from the reader's grandparent; if this tree had been drawn one generation earlier, the grandparent would have been labeled as parent, and the aunt and parent would have been labeled as siblings. Descendants of the reader's aunt (i.e., of the parent's sister) are the reader's cousins. The very same basic relationships apply to the species shown in Fig.
3
b.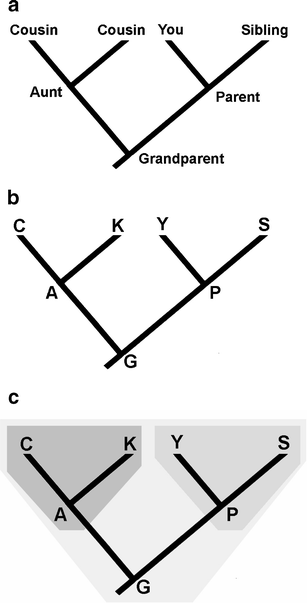 This simple comparison between phylogenies and family pedigrees highlights some other important points regarding the interpretation of evolutionary trees. First, contemporary entities (whether individual family members, species, or larger groupings) are related through common ancestors—they are not themselves ancestors of one another. Thus, the reader is not descended from a sibling; rather, both are descended from a shared parent. Likewise, the reader is not descended from a cousin, but they share a more distant common ancestor, namely their grandparent. Second, not only individual relatedness but also the relatedness of nested and increasingly inclusive groups is indicated on a tree. The reader, his or her sibling, and their shared parent represent an "immediate family," whereas adding the cousins, the aunt, and the grandparent would also produce a coherent grouping that could be labeled more generally as a "family." The analogous groups in phylogenetic terms, ones that include an ancestor and all of its descendants, are called "clades" (Fig. 3c). As O'Hara (1994) explained, "If you were to grab hold of the tree at any point, and cut immediately below your grip—below in the sense of toward the root—the chunk of the tree in your hand would by definition be a clade." In other words, clades are branches that include all the twigs that have sprouted from them. Third, all members of an immediate family are equally related to individuals outside of their immediate family but with whom they share a more distant ancestor. For example, in Fig. 3a, both the reader and his or her sibling are equally related to both cousins. In like fashion, species Y and S in Fig. 3b are equally related to species C and to species K. Indeed, no matter how many descendants a parent and an aunt have, all siblings will be equally related to all of their first cousins. The same is true of species.
How Not to Read Evolutionary Trees
Misunderstandings of evolutionary trees are pervasive among students, in the media, and among other nonspecialists. Even more alarming, they also surface frequently in the peer-reviewed scientific literature, often with significant implications for the conclusions drawn from comparative analyses (see Crisp and Cook 2005 for several examples). The following sections describe and seek to correct ten of the most commonly encountered misconceptions about evolutionary trees. Several of these are interrelated and therefore overlap to an extent, but each can be illustrated using distinct examples. Learning (and teaching students) to avoid these misunderstandings represents a key step toward the development of adequate tree thinking skills.
Looking Ahead to Better Understanding the Past
Two points are abundantly clear when it comes to phylogenetic literacy: (1) It is crucial for an understanding of modern evolutionary concepts, and (2) it is insufficiently common. Misconceptions abound regarding evolutionary trees—sometimes because of, and sometimes creating, incorrect preconceptions about how, evolution operates. Many are holdovers of progressionist or even pre-evolutionary thinking about life's diversity. Some, along with widespread misunderstandings of evolutionary mechanisms such as natural selection, undoubtedly contribute to the staggeringly low public acceptance of the principle of common descent in North America (Alters and Nelson 2002; Miller et al. 2006).
The way forward on this issue is unambiguous. Students, members of the public, and other nonspecialists must be better educated about the information that evolutionary trees do and do not convey. To this end, several teaching plans and software exercises for constructing and/or using phylogenetic hypotheses have become available (e.g., Bilardello and Valdes 1998; Gendron 2000; Singer et al. 2001; Goldsmith 2003; Meir et al. 2005). In addition, freely accessible online resources are making it possible for individuals to learn about and interact with evolutionary trees (see Appendix).
More generally, lessons at the high school and undergraduate level should de-emphasize the technical aspects of phylogeny reconstruction in favor of a focus on the concepts underlying tree thinking. In this regard, identifying, confronting, and clarifying misconceptions is perhaps the most important strategy. After all, a misconception corrected is a concept better understood. In few cases is this more relevant or more important than with Darwin's preferred metaphor of the Tree of Life.
Footnotes
1
A discussion of phylogenetic methods is well beyond the scope of this article. Introductions to the technical aspects of phylogenetic analysis are provided by Hillis et al. (1996), Page and Holmes (1998), Nei and Kumar (2000), Felsenstein (2003), Salemi and Vandamme (2003), and Hall (2007).
2
The quiz used by Meir et al. (2007) is available to instructors upon request by email (info@simbio.com). See also the "Tree Thinking Challenge" supplemental quiz by Baum et al. (2005).
3
For the purposes of this discussion and regardless of whether this will annoy some specialists, "evolutionary tree," "phylogenetic tree," and "phylogeny" are used interchangeably.
4
Students (including many graduate students) sometimes exhibit confusion regarding the singular and plural forms of terms such as these. "Species" is both the singular and the plural ("specie" is not a biological term—it refers to coins). "Genus" is the singular, whereas "genera" is the plural. "Phylum" is the singular and "phyla" is the plural. Other terms of interest include "taxon" (singular) and "taxa" (plural) and the widely misused "data," which is the plural form of "datum." While on the topic, it bears mentioning that one human is still referred to as Homo sapiens, which means "wise man" and does not represent the plural of "Homo sapien."
5
Of course, one must not take this analogy too far. Human offspring have two parents, four grandparents, and so on, whereas each species in a phylogenetic tree is usually considered to have descended from a single parental species through a branching event (speciation). In this way, a more appropriate analogy would be to a pedigree showing only the males or only the females of a family or to the family tree of individual organisms that reproduce either through asexual fission or budding.
Declarations
Acknowledgments
I thank Sarah Adamowicz, Alex Ardila Garcia, Martin Brummell, Niles Eldredge, Bruce Lieberman, Mark Pagel, Andy Purvis, Jillian Smith, Phillip Spinks, and Jonathan Witt for feedback on an early draft of the paper.
Authors' Affiliations
(1)
Department of Integrative Biology, University of Guelph, Guelph, Canada
Copyright
© Springer Science+Business Media, LLC 2008