Lesson Plans and Thematic Expansions on Science Articles

Open Access
Mopping Up: Hierarchies and the Sloshing Bucket in the High School Classroom
Evolution: Education and Outreach
2007
1:19
Published: 21 November 2007
"Yo Mista, does evolution mean people will grow wings and fly around?" This is the question I am most frequently asked when introducing evolution to incoming ninth graders. The posing of this particular question tells me two things: (1) students have a very basic idea of what mutations and adaptations
are
but little understanding that mutations are slight and must be passed down through generations, which is a slow process when the affect is evolutionary change, (2) for evolution to occur, there often needs to be a catalyst (for example, drastic climatic change causing environmental degradation resulting in mass extinction opening niches). This hazy view of life is not surprising if we look at the way teachers teach. In 1956 Benjamin Bloom organized a hierarchy of intellect known as "Bloom's Taxonomy" (see Fig.
1
).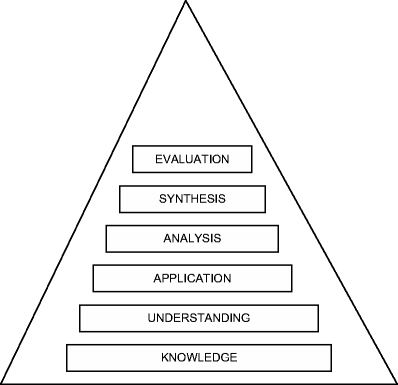 As teachers, we often focus on the lowest level of intellect, that of knowledge or "recall". The term knowledge refers to the ability to regurgitate facts (names, dates, etc.) with little understanding of how and why those facts are meaningful. The purpose of the accompanying lesson plan is to focus on higher-level thinking skills regarding the process of evolution. Students should be able to analyze evidence, synthesize, and then evaluate its meaningfulness. The objective is not to teach what evolution is but for students to discover how evolution occurs and why it is so important.
Footnotes
1
There is some discussion as to the earliest ancestral link to order Cetacea.
(1)
John F. Kennedy High School, Bronx, NY, USA
© Springer Science+Business Media, Inc. 2007